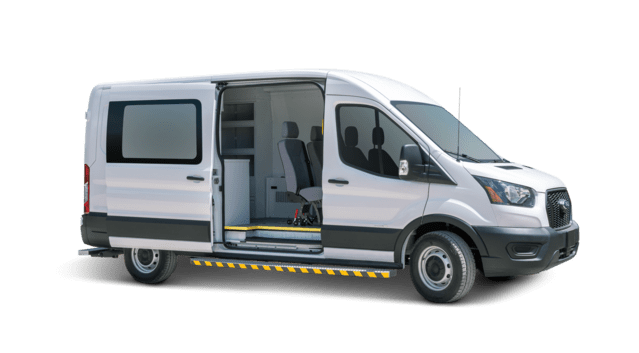 MO Van: Mobile Outreach Van
Known as the MO Van, AVAN Mobility's Mobile Outreach van is built on the Ram Promaster 2500 159″ Wheelbase High Roof model.
Outreach vehicles are used by programs that provide services such overdose prevention, harm reduction, mobile health, housing, mental health and addictions counselling, and referral services. The Mobile Outreach van provides a transportation option and a clinic space in one, allowing you to maximize the potential of your service.
The MO Van includes:
AutoFloor Flexible Floor and Seating System
AutoFloor is an innovative floor track and seating system that allows you to configure seats and wheelchairs in the vehicle in different layouts. Your organization can save time and money with an adaptable vehicle that meets any rider needs.
Wipe-clean transit grade seats
Lightweight and removable seats on wheels for easy moving
Maximum flexibility and efficiency on every ride
Customize seating layouts to suit each passenger's needs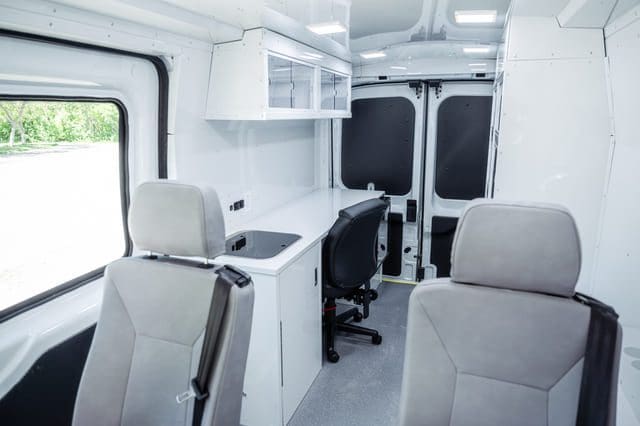 Mobile Medical Outreach Van Layouts
Layouts include the option to transport staff or clients as well as provide on site personal services. All surfaces are wipe-clean and suitable for a medical environment. The MO Model includes: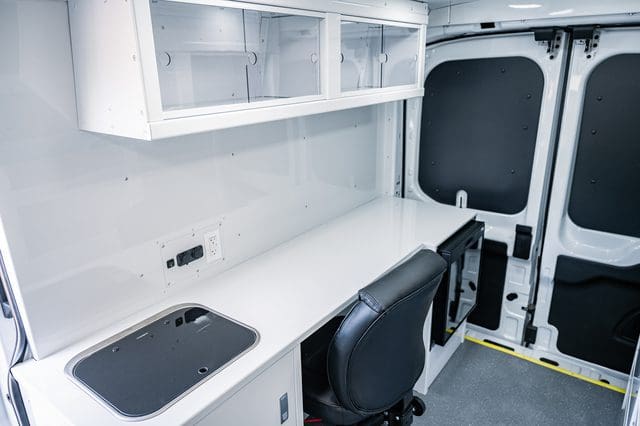 Mobile Office Space
Configure your mobile office space to be equipped with everything you need to work from any location. A typical mobile office space includes: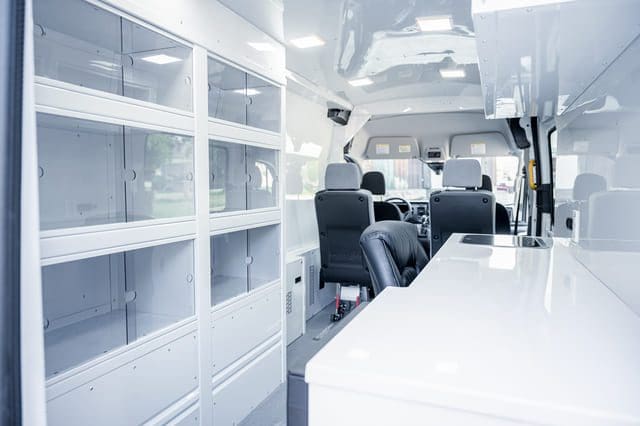 Clean, Simple Environment
To be able to work efficiently when working with your patients, you need an organized, and clean space.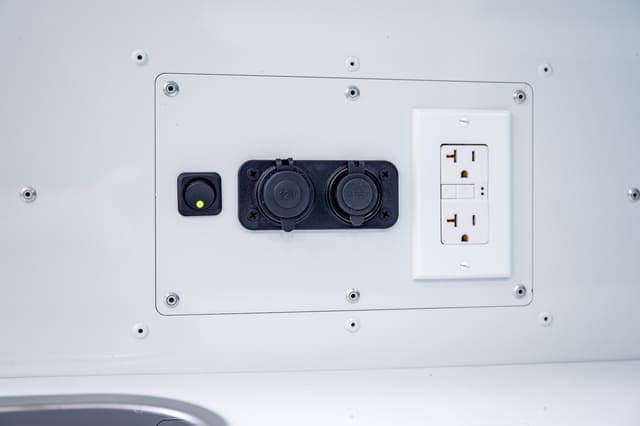 Power Supply
Additional power supply is optional at desk areas, which includes:
Fridge and Sink
These are must-haves when you are providing services like vaccinations and health checkups.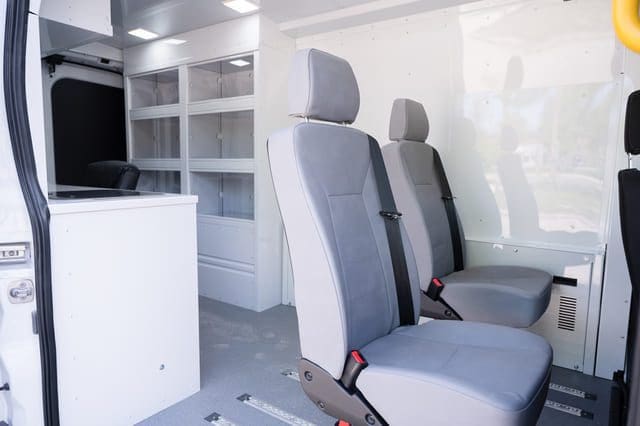 Additional Options
Every outreach program is different. You can choose to include custom options in your vehicle, such as:
The AVAN Mobility's Mobile Medical Outreach Van – is a versatile solution designed to empower outreach programs with a comprehensive approach to healthcare on wheels. Built on the Ram Promaster 2500 159″ Wheelbase High Roof model, our Mobile Medical Outreach Van, also known as the MO Van, seamlessly combines transportation with a fully-equipped clinic space.
Equipped with floor-to-ceiling storage cabinets, a mobile office desk space, sink, fridge, and removable passenger seats, the MO Van ensures maximum efficiency for programs ranging from overdose prevention to mental health counseling. The innovative AutoFloor system allows flexible seat and wheelchair configurations, providing adaptability to meet diverse rider needs. With wipe-clean transit grade seats, easy-to-clean cabinetry, and a power supply featuring conventional outlets, 12V plugs, and USB ports, our Mobile Medical Outreach Van is tailored to deliver clean, organized, and technologically enabled healthcare solutions on the move. Elevate your outreach efforts with a Mobile Medical Outreach Van that prioritizes efficiency, flexibility, and client well-being.
MO Unit: Mobile Response Van FAQs
A mobile outreach van is a method of community outreach to persons experiencing homelessness, addiction, or other conditions that cause them to rely on external support for daily living. It has been proved that by meeting individuals where they are, outreach programs can build trust amongst vulnerable populations using outreach vans. In contrast to a traditional clinic building, vans are ambulatory and facilitate a "boots on the ground" approach.
Underserved communities are often close-knit communities. Persons facing homelessness or addictions face stigma when going to bricks-and-mortar clinics. They often do not want to be perceived as needing help. Many people who need help with conditions such as addiction do not access it due to the lack of privacy.
Once established, community outreach vans become a familiar presence in the communities they operate in. This eliminates feelings of mistrust and builds credibility. Therefore, persons are more likely to approach the van for help.
Vans also provide the opportunity to reach more people in need. Instead of focusing all outreach efforts on persons who come to drop-in services consistently, vans allow outreach services to connect with persons who do not go to these centres. As a result, many outreach services travel through different neighbourhoods instead of being permanently stationed in one location.
Outreach vans are used by community support programs that provide outreach services. Typically, outreach services are provided to targeted communities. Outreach services include harm reduction, health care, telemedicine, and screening. Mobile outreach vans are also used for distributing food, clothing, and water.
Depending on the primary use for each program, they may be known as mobile overdose units or outreach patrol vans.
How to purchase this van for your organization
This vehicle is manufactured in Canada and distributed to organizations across the USA. Contact our team using the form to get started today.
What happens if you submit the form?
We understand you don't want to get phone calls, emails, or spam. If you submit the form, here's what will happen:
Within one business day, you'll receive a phone call from our commercial mobility specialists at the number you provide.
If we miss you on the phone, we'll leave you a message. We'll send you an email to let you know we tried to connect.
Once we connect, we'll take time to ask you and answer your questions to find the right vehicle for your organization.